Remote viewing was used by the military for years. Studies have been done which show that a Remote Viewer's ability increased by up to 400% during 13.5 Local Sidereal Time (LST).
Sidereal time tracks where we are relative to the stars and is used by Astronomers to track stars. It shifts by approximately 4 minutes every day. 13.5 LST corresponds with (you are perpendicular to) the center of the Milky Way galaxy. The very center of the Milky Way, Sagittarius A* is a strong source of radio waves and probably a massive black hole.
Ref:
http://www.jsasoc.com/docs/JSE-LST.pdf
and
http://ned.ipac.caltech.edu/level5/Glossary/Glossary_S.html
There is a 400% increase in spiritual/psychic/energy healing at 13:30 Sidereal time; 200-300% increase in abilities between 13:15 and 13:45 Sidereal time, and 200% increase in abilities between 12:45 and 14:15 sidereal time.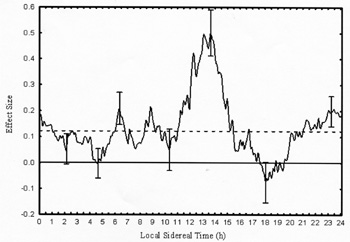 Aside from the desktop sidereal clock below, you can also download Sidereal clocks for your smart phone.
Download a Sidereal clock for your desktop:
Calculate LST for a specific day:
Longitude West of GMT should be entered in as negative. Also, make sure you convert and input time in hours in decimal (minutes/60 minutes).
Further, you need to take Daylight Savings Time (DST) into account. So in the EST time zone, the local time zone is actually -4 instead of -5 right now. This means that you need to add an hour to the local time used to calculate 13.5 h LST. For example, if you entered 9 am to get 13:30 LST, then 13:30 LST would actually be at 10 am that day until the end of DST (November 4th, 2012 for North America).